From humble beginnings, with only a $6,000 loan from her husband, Susanna F. Cheung, built a vast enterprise that helps people with special needs in our community. ORI (Opportunities and Resources Inc.) is a private-non-profit 501(c)(3) organization whose mission is to provide services and supports to people with intellectual or developmental disabilities so they can learn to work in "real jobs," strive to become self-sufficient and live a quality of life. Mrs. Cheung launched ORI in 1980 and the agency was known for 30 years as Opportunities for the Retarded, Inc. In 2011, ORI's corporate name officially changed to Opportunities and Resources Inc.
OUR HISTORY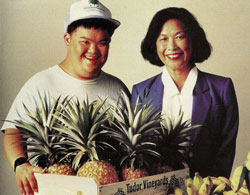 ORI's founder, Susanna F. Cheung dreamt of a world where individuals with special needs could learn and grow, prepare for the future, seek out new opportunities and be nurtured.
In 1984, ORI started doing business as Helemano Plantation Inc., which included a restaurant, retail shops and a farm. Helemano Plantation provided training and employment opportunities to people with intellectual or developmental disabilities and the community. After several years, Helemano Plantation became a separate business entity, located within ORI's 10-acre facility in Wahiawa, Hawaii, which supports charitable programs in the community especially its sister agency, ORI.
In the early years, ORI was fortunate to have received the assistance from the U.S. Army 65th Engineers Battalion at Schofield Barracks, Hawaii, who volunteered to clear the land for ORI's construction of its training facility and homes.
ORI's residential facility was also constructed and in 1984, the first three five-bedroom homes and a recreation room were completed. In 1988, six more homes and 2 recreation rooms were added. Also known as Helemano Plantation Village, ORI currently has 9 licensed homes and 3 recreation rooms.